Convert your 2D images into stunning 3D models with ease! Discover the process of creating an Image to 3D Model with photos. Unleash your creativity and bring your images to life with this powerful technique.
"Gain the skills to transform images into 3D models, adding an extra layer of depth to your cherished photos. No prior expertise needed!"
For close to a century, photographs have been the medium through which we preserve and share meaningful events and objects – be it cherished moments with loved ones, stunning landscapes, intricate designs, and so on. In recent years, the concept of using 3D printing to preserve memories has gained popularity – why settle for a picture of your favorite car when you can have a physical model?
Turning existing photos into 3D models has become a reality, with a range of options to fit your budget, time, and skill level. Whether you have multiple aerial shots or vintage images of a family wedding, converting two-dimensional photos into three-dimensional works of art is now possible, revealing intricate details in a whole new light.
ALSO READ: How to Create a Swipe File?
Let's dive into the process of transforming your photos into 3D models!
3D MODELING
Bringing your photos to three-dimensional life is possible with 3D modeling software, although it's the most involved option. However, the results can be impressive.
Blender is a powerful, customizable, and complex 3D modeling software that's widely used by professional animators, designers, and engineers.
For a more advanced project, try using the Face Builder add-on, which allows you to import photos into Blender. By creating a mesh outline around the subject's head, anchoring it with pins, and shaping the mesh to the head, you can achieve a 3D render that resembles the subject. Textures from the original photo can also be added.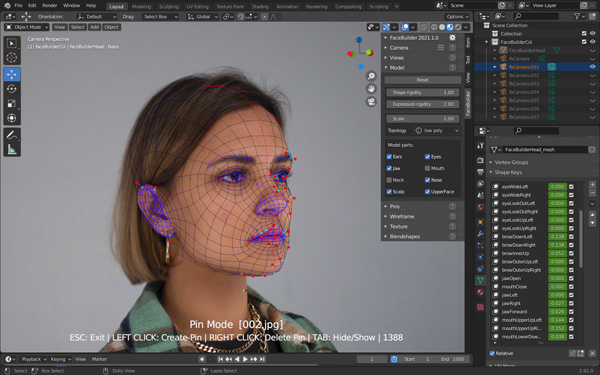 Please note that Blender itself is free, but Face Builder requires a fee after a 15-day trial period. A personal license costs about $150 and a commercial license costs about $300.
Difficulty level: Advanced
Customizability: High
Output format: STL
Cost: Free
Supported platforms: Blender, MacOS, Linux
TinkerCAD
CAD software is widely used in industrial design for various purposes, from designing cars to products. However, with many options available, it can be hard to choose the best one for creating 3D photos.
One common feature among CAD programs is the Extrude tool, which converts a 2D drawing into a 3D image by adding height. With enough skill, this tool can be used to create a 3D model with some adjustments.
Tinkercad is one user-friendly CAD program that runs on a browser. It's simple to use, especially for basic tasks like extruding images to STL files. You just need to convert your photo to an SVG file first, so Tinkercad can read it.
Difficulty: Low
Customizability: High
Output Formats: STL, OBJ
Cost: Free
Supported Platforms: Any (online)
Specialized Applications
Capturing photos is just the starting point. Fortunately, the rest of the process is relatively straightforward. Using conversion software, you can turn a 2D image into a 3D model. This method is the simplest and most straightforward approach to creating 3D images, though it offers limited customization options.
Smoothie-3D is a tool to convert 2D images to 3D models. It used to be free but now operates on a donation model. You upload an image and use the tool to draw an outline around it. The program then generates a 3D model based on the outline, which can be saved in file formats like OBJ or STL. For best results, use images that are symmetrical.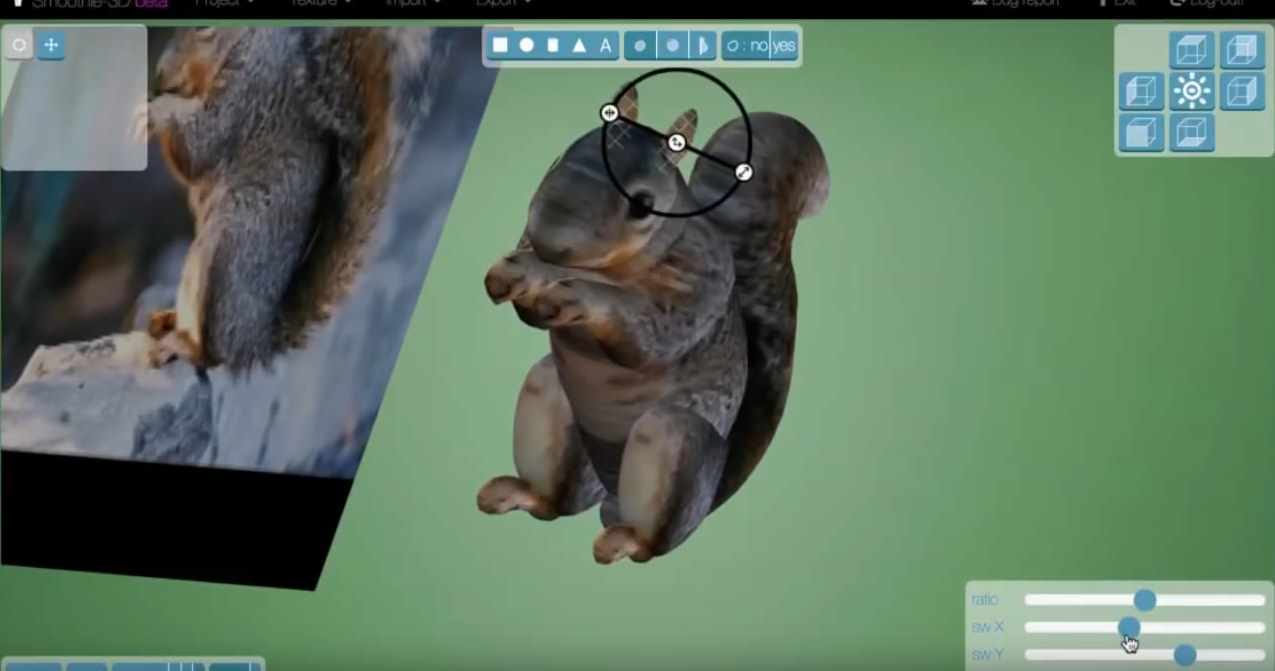 Smoothie-3D also lets you change the image into shapes like cones and cylinders, and view the image from different angles.
Ease: Medium
Customization: Medium
File Formats: OBJ, STL, VRML 2, USDZ
Price: Minimum donation of $2.50 for desktop version, around $3 for iPad version
Platform: Any device with internet access.
Selva3D is a newer tool for converting images to 3D models. Unlike Smoothie-3D, it automatically creates a 3D design based on a few simple settings. It has two modes: Logos for designs with high contrast and fewer colors, and Photographs for real-life pictures. You can adjust the threshold and height of the model, and download a standard STL file for free or a higher quality version for a small fee after purchasing credits.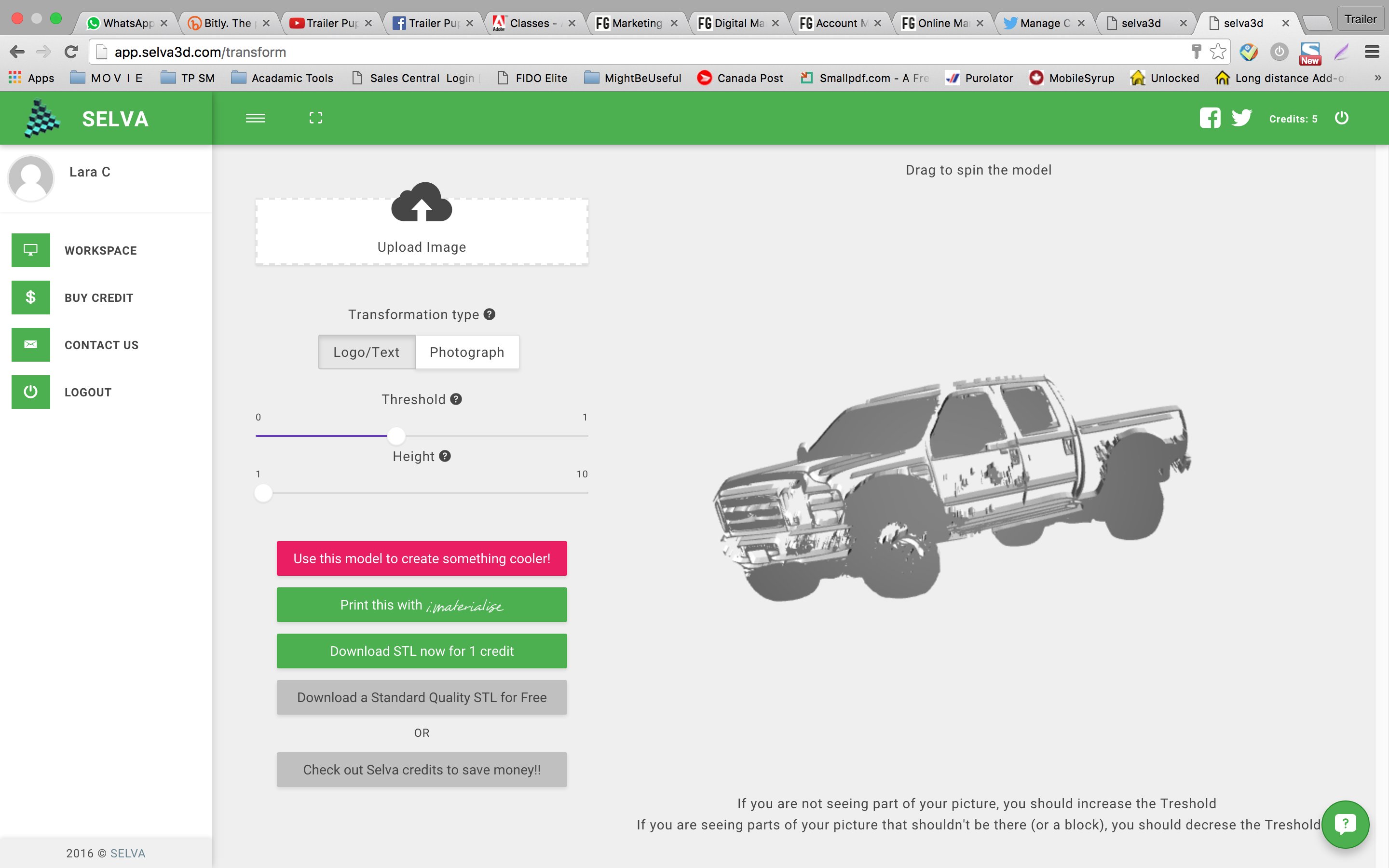 Note: When I tested the service, our browser warned us that the login screen was not secure and our information might be compromised. It's always best to use a unique password and an email address without sensitive information.
Ease: Easy
Customization: Low
File Format: STL
Price: Free (charge to export higher quality)
Platform: Any device with internet access.
AI
It's not surprising that AI can be used for 3D photographs, given its ability to perform tasks like printing cars, going to space, and even creating art.
3D Face Reconstruction
In 2017, a computer science PhD student named Aaron Jackson created an AI-based photo enhancement program that quickly generates 3D renders of human faces through the application of deep learning techniques. The final product is so detailed that it can be 3D printed as a recognizable model of the subject with minimal human input.
Additionally, researchers are exploring the use of AI to generate photographs of human faces and models that are purely based on the AI's "imagination" and do not depict actual individuals.
Level of Difficulty: Extremely Low
Level of Customizability: Extremely Low
Output Format: OBJ
Cost: Free
Platforms Supported: Any (Online)
LITHOPHANES
Lithophanes are true 3D photographs that utilize the principle of film negatives. Just like film negatives, the thicker the material is laid in a certain area of the photo, the darker that spot will become when light shines through it.
PhotoToMesh is the only lithophane program on this list that is available for download and requires purchase. However, there is a free demo version for users to try before making a purchase. The program comes in two different versions, priced at around $35 and $50 respectively, both for individual use.
Level of Difficulty: Easy
Customization: High
Output Format: STL
Cost: Approximately $35 or $50
Supported Platform: Windows
Cura
Cura is a slicing software designed to translate 3D models into code that 3D printers can understand and print. Although not specifically created for creating lithophanes, it has the capability to do so with ease.
Simply upload the JPG image you want to print into Cura, adjust the default settings to "Darker is Higher" and lower the smoothing bar for clearer images. Once the image is loaded on the build plate, set the infill to 100% to allow light to shine through without any distractions from infill patterns. Then, simply hit "Slice" and load the file onto your printer.
Difficulty: Medium
Customizability: Medium
Output Format: G-code
Cost: Free
Supported Platforms: Windows, MacOS, Linux
Lithophane Maker is a straightforward program that creates stunning 3D photographs that can be used for a variety of purposes such as lampshades, wall art, and ceiling fan covers. Although it may not have as many features as other programs on this list, its output makes for wonderful gifts for loved ones.
Level of Difficulty: Easy
Degree of Customization: High
File Output Format: STL
Cost: Free
Compatibility: Any device with internet access (online platform)
Image to Lithophane is a user-friendly program for creating lithophanes. Simply upload an image, choose the desired shape (such as dome, half dome, or heart), and download the final result. There are customization options available on the screen as well.
Features:
Difficulty: Easy
Customizability: Moderate
Output format: STL
Cost: Free
Supported platforms: Any (online)
ItsLitho is a comprehensive lithophane program that offers a range of features including tutorials, a lithophane maker, and a store to buy PLA and 3D printers. It is a user-friendly tool that provides numerous options to customize your print.
You can flip the image, adjust light intensity, preview different materials, and even keep track of your creations with an account system. With a medium level of difficulty, high customizability, and free of cost, ItsLitho is a great option for lithophane creation. The output format is STL and it can be used on any online platform.
PHOTOGRAMMETRY
Photogrammetry is a technique that results in higher-quality 3D photographs. It combines multiple images captured from different angles to create a complete 3D model.
This process is becoming increasingly powerful, bridging the gap between image conversion and 3D scanning. Although a professional DSLR camera is ideal for photogrammetry, there are smartphone apps available for the latest iPhones and Androids.
Additionally, there are also desktop programs that deliver excellent results, although they may be more expensive. For those interested in learning more about photogrammetry, a tutorial playlist on YouTube is available from Crompwell.
Context Capture is a highly versatile and powerful tool for creating 3D models, though it may be too expensive for most hobbyists. Developed by Bentley Systems, a software company, it is primarily used by the industry for scanning bridges and other structures with drones.
The advanced capabilities of this modeling method provide engineers with a deeper understanding of how to maintain and improve existing infrastructure.
Features:
Difficulty: High
Customizability: High
Output format: OBJ
Cost: Quote available through website
Supported platform: Windows
Agisoft's Metashape offers a more affordable alternative to Context Capture. It comes in two paid options: standard and professional.
Can process data from multiple cameras
Can render 3D models or stitch together panoramic shots
Includes additional features such as accurate terrain measurement and distance calculation
Can process data from satellite imagery
Cost:
Standard Edition: ~$180
Professional Edition: ~$3,500
Difficulty: Medium
Customizability: High
Output format: OBJ
Supported platform: Windows
Both options come with a 30-day free trial.
Recap Pro is a cloud-based subscription service from Autodesk (the creators of AutoCAD). It compiles multiple photos to create a fully immersive 3D model, specifically for use with drones. The subscription costs ~$40 per month or ~$325 for a year's subscription and comes with a free trial.
Difficulty: High
Customizability: High
Output format: OBJ
Cost: ~ $40/month or ~ $325/year; free trial available
Supported platform: Windows